ANNOUNCEMENT: ON MARCH 2nd, 2015, TOYOTA ANNOUNCED THAT THEY ARE DISCONTINUING THE VENZA EFFECTIVE JUNE 2015 DUE TO ABYSMAL SALES.
SUBARU OUTBACK vs TOYOTA VENZA

Recently, Toyota has been targeting Subaru's Outback vs the Toyota Venza.  It's no wonder considering the Subaru Outback outsells the Toyota Venza 3 to 1.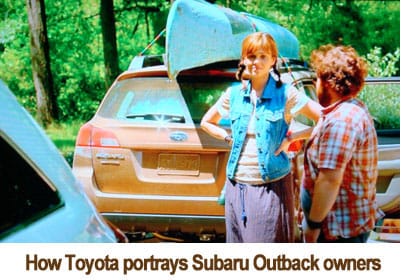 Toyota's tagline is "Versatility Made Stylish". Their TV commercial features two "granola looking hippies" (left) at a recreation area standing beside their brown Outback with a crappy looking old canoe on top vs city yuppies pulling their designer bikes off a "stylish" Venza. The premise is that the Venza is "
just like an Outback
, only more stylish" and with more room. But is it really? And what about the $2,600+ higher price tag for the Venza? No mention of that in the ad. And finally, Toyota's portrayal of Subaru owners hardly endears them to the Toyota brand.  Based on what we know about Subaru owners (active, highly intelligent, individualists), Toyota got it all wrong. In fact, just the only thing these two vehicles have in common is that they both have four wheels!
On this page, we will compare two
comparably equipped vehicles
- without hype by looking at:
Style and Functionality

AWD Systems

Safety
Size

IMPORTANT NOTE: The standard Venza LE configuration is front wheel drive (FWD) automatic with an all-wheel drive (AWD) version for an additional $1,460. The standard configuration for the Outback Premium model is a 6 speed manual transmission. The automatic (CVT) transmission with paddle-shifters is an additional $1,000. Since Subaru Outbacks are always AWD and the Venza does not offer a manual transmission, we selected the 2014 Outback Premium Package CVT and the 2014 Venza LE AWD (both are common trim levels for New England). No accessories. No add-ons. Let's see how they compare.